Now more than ever, marketers need to keep their finger on the pulse to stay ahead of the curve and continue their organization's growth trajectory. Find the key marketing trends for 2023 that will help you create effective marketing strategies and successfully generate leads.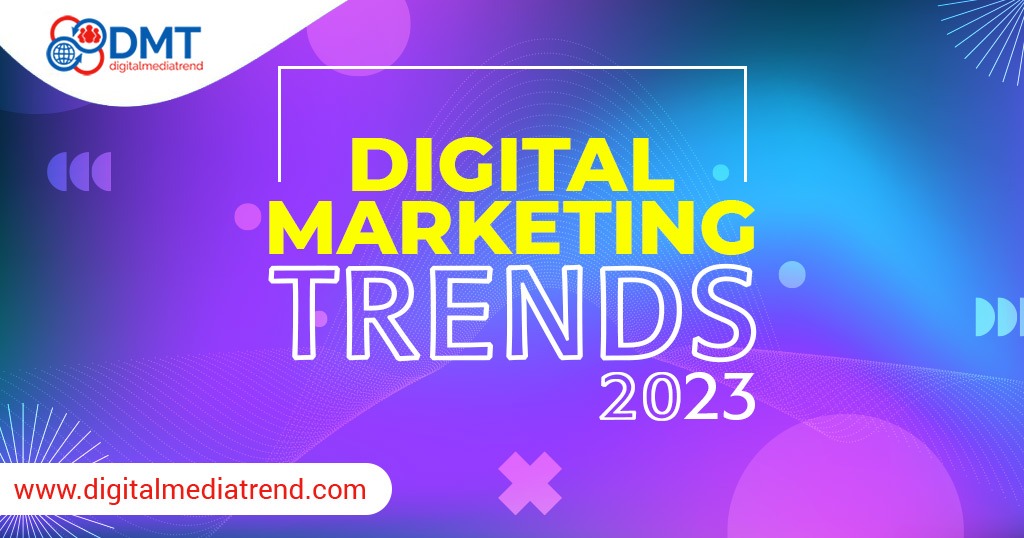 The use of AI and ML will continue to grow
One digital marketing trend that has been quietly growing in the background over the last decade is AI and ML. Almost every digitally connected person in the world is already using an AI or ML app without even realizing it. And yes, AI is integrated into all digital marketing channels, from social media to search engines and, more recently, even copywriting apps. A 2018 DMT Lahore study found that marketing is the business function where AI will make the biggest contribution.
AI and machine learning can be used for a variety of tasks, including personalizing content, optimizing campaigns, improving SEO, data cleansing, analyzing customer data and more.
To stay ahead of the competition, it has become essential for marketing managers to understand how AI is changing key aspects of digital marketing, while keeping abreast of what AI applications are available and how they may evolve.
There is no doubt that companies that embrace these technologies will be able to better target their marketing efforts and improve their ROI.
Personalized and better customer experiences
Another trend that will continue to gain popularity is more personalized marketing and customer experience. Why? Because customer experience is at the heart of every successful business. A happy customer means more sales and more support.
As you can see from the first trend, the introduction of new technologies allows companies to collect more data about their customers than ever before. This allows them to truly stand out and outperform their competitors. It has become increasingly important for companies to personalize their marketing efforts too. Gone are the days when sales offers and coupons were the same for everyone. Marketers will need to leverage data and create timely and relevant content to stay ahead.
3. Marketing automation and increased investment in marketing and revenue operations
Global competition is increasing, marketing resources can be limited and 60% of B2B CMOs have indicated that customer journey management has become more complex and challenging than in the past. It's no wonder that most marketers are increasingly relying on automation tools to help their organizations with a variety of tasks. These tasks include organizing customer engagement across the customer lifecycle, collecting and activating customer data, and measuring the effectiveness of marketing campaigns. With all its capabilities, it's no wonder that a leading market research survey found that 78% of media planners use automation.
The use of automation will continue to grow as marketers find new ways to use automation in their daily operations. Revenue operations will also need continued attention as the market continues to be volatile. Both companies and marketers will need to be prepared to change their strategy and operate as leanly as possible.
The short-form video boom will continue
According to the Digital 2022: South Africa Report, almost 96% of South African internet users watch online video content on a weekly basis. It's no secret that short-form video is set to take off in 2022, with the likes of TikTok, Instagram Reels, Facebook Stories and YouTube short films. Marketers will need to meet their target audience on its preferred channels in their preferred format – a short video.
Continued investment in digital marketing fundamentals
While marketers may get carried away by the hype around new technologies, it is important to continue to invest in the fundamentals of digital marketing. SEO and digital advertising continue to see solid investment from marketers, with 77% of B2C marketers using SEO and 66% of B2B marketers. SEO tactics showing stunning results in 2022 with a positive outlook in 2023 include pillar pages, optimizing page load speed and using topic clusters.
Marketers need to continue to improve performance in key digital marketing areas by developing strategic plans for website, email, social media, community management and PR.
The future of digital marketing is bright
These are just some of the digital marketing trends we can expect to see in 2023. They may seem distant, but if you want to stay ahead of your competitors, don't hesitate too long to take advantage of them.
The short-form video boom shows no signs of slowing down, so make sure your content strategy incorporates this trend. Never forget the basics – success will always require quality content, SEO basics and effective targeting. And finally, marketing automation will only become more widespread and important as businesses continue to invest in their revenue operations. So don't delay, embrace these trends and invest in automation today to secure the future of your business!
DMT has been serving the valued clients since 2009 and maintains a list of highly satisfied clients. Being an emerging giant in Digital Marketing, we are committed to incorporate the latest technologies to ensure robust and proven success.