Your own website:
Starting your own website is very easy with the help of a professional web development company that can help you with the e-commerce design and development process. You simply need to buy a web hosting service, set up the site yourself and install a payment processing plugin. This process can be done by someone with a lot of time and a willingness to learn. All these steps require a one-off effort, and you are finally on your way.
Amazon:
Setting up selling on Amazon is not that easy and simple for a layman. To become an Amazon seller, you will have to sign up first and the setup store to list your products, if you are computer literate then it must a hassle for you.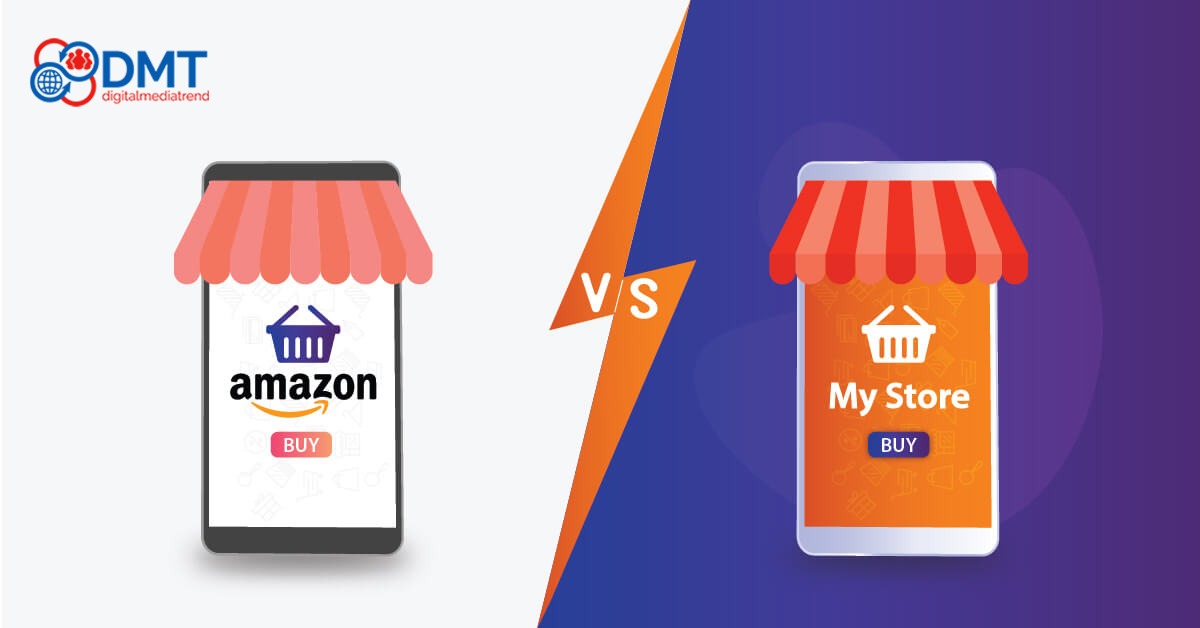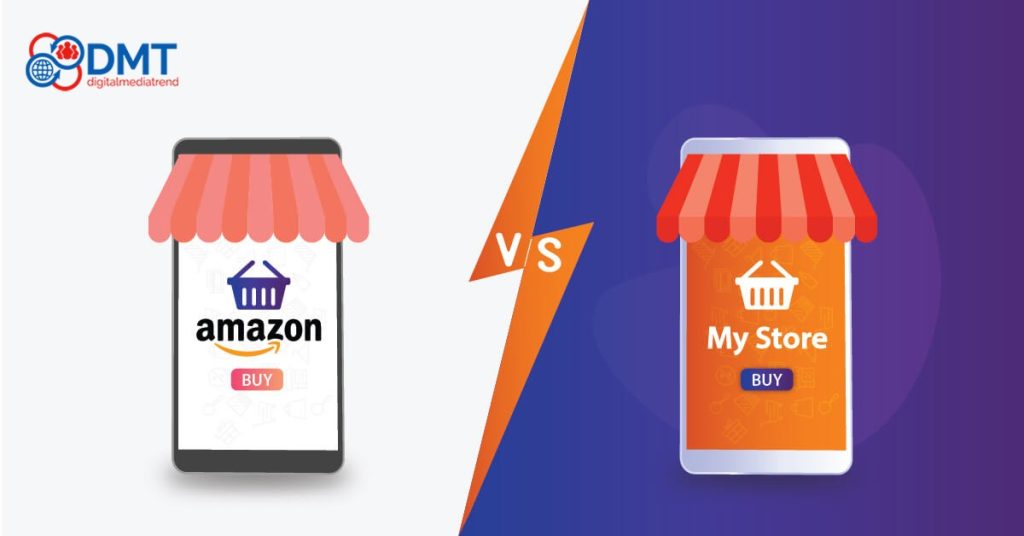 1-Traffic
Your own website:
A custom e-commerce site can get huge number of visitors per month through successful SEO technique in a record time. However, targeted digital marketing efforts will surely increase your site's traffic over time. These efforts include paid advertising on search engines like Google, SEO, social media marketing and backlink prospecting.
While the number of website visitors your customized e-commerce site receives will likely increase against the digital marketing efforts. In addition, the traffic coming to your website will be your own organic traffic and your customers will get to know your brand as a unique entity. You will own your customers and will get recommendations from them who will be able to refer to your company.

Amazon:
Although "Amazon" receives a good number of visitors every month. Its traffic also requires a lot of effort to gain desired results among billions of other businesses who are selling on Amazon. No matter, Amazon traffic is transaction-oriented and eager to buy but you surely need to invest required skills to earn better business.

2-Customizing
Your own website:
If you sell from your own site, you have the authority to fully customize your store. You can increase your brand awareness through social media and many other techniques. Your product will be considered your own product which is not possible with Amazon.
Amazon:
Amazon: Sellers on Amazon don't need to create a storefront. Private labels have to go through a few steps to register on Amazon, but regular sellers don't have to. Unfortunately, the advantage of simplicity sacrifices customization options, making it difficult to make your store stand out from the rest. Most buyers will simply see your products as "Amazon products". This is not good if you plan to develop your own brand.
3–Cost
Own website:
Of course, a customized e-commerce website does not come free. You will have to pay to host the site annually or monthly depending on the plan you choose. But you will never pay for an order that is sold through your own website which is very BEST. You will only have to pay a one-off cost to enjoy hassle-free sales in the future.
Finally, you can choose to hire an e-commerce developer to develop your dream sales platform. The costs associated with the developer will depend on the agency you choose.

Amazon:
Amazon looks convenient, but it's not FREE. First, you'll have to pay a referral fee for every item you sell. Fulfillment by Amazon (FBA) sellers have to pay an additional FBA fee. Amazon takes care of the fulfillment. Finally, each Amazon seller pays a monthly membership fee of USD 39.99. Cut to the cheese, you are at every step with amazon.
4–Proprietary
Own site:
You will own your site completely. This means you can edit your product page design, checkout process, third-party applications, etc. for the lifetime of your business.

Amazon:
Your presence on Amazon is leased. This means that you must meet and adhere to Amazon's pre-established standards, fees and practices. For some e-commerce businesses, this may seem appropriate but for others, ownership is very important that you never get with Amazon.
5–Data
Your website:
Google Analytics: Google Analytics is a powerful tool that can easily be added to custom websites. GA provides in-depth and detailed reports on almost every area of your site, from orders and sales to traffic demographics.

Amazon:
Data is a valuable tool for any seller. Amazon provides general analysis including total sales per month, sales per product category, cost analysis, etc.
What do we recommend?
At DMT Lahore, we strongly and positively recommend that you go on your own website, this journey may take some time at the beginning, but brings the desired results later on for a lifetime. Based on our extensive experience, we always recommend companies who want complete website ownership, continued success on search engines like Google and usable data. We help them develop and design their preferred website and help them grow their business on social media and relevant platforms to ensure maximum visibility.