Here's a quick look at what each platform is for, what each does best, and some drawbacks to consider.
Shopify is what's known as a 'dedicated ecommerce platform', meaning its focus is on supporting online sales. Everything about the Shopify platform is designed to help businesses run their ecommerce business efficiently.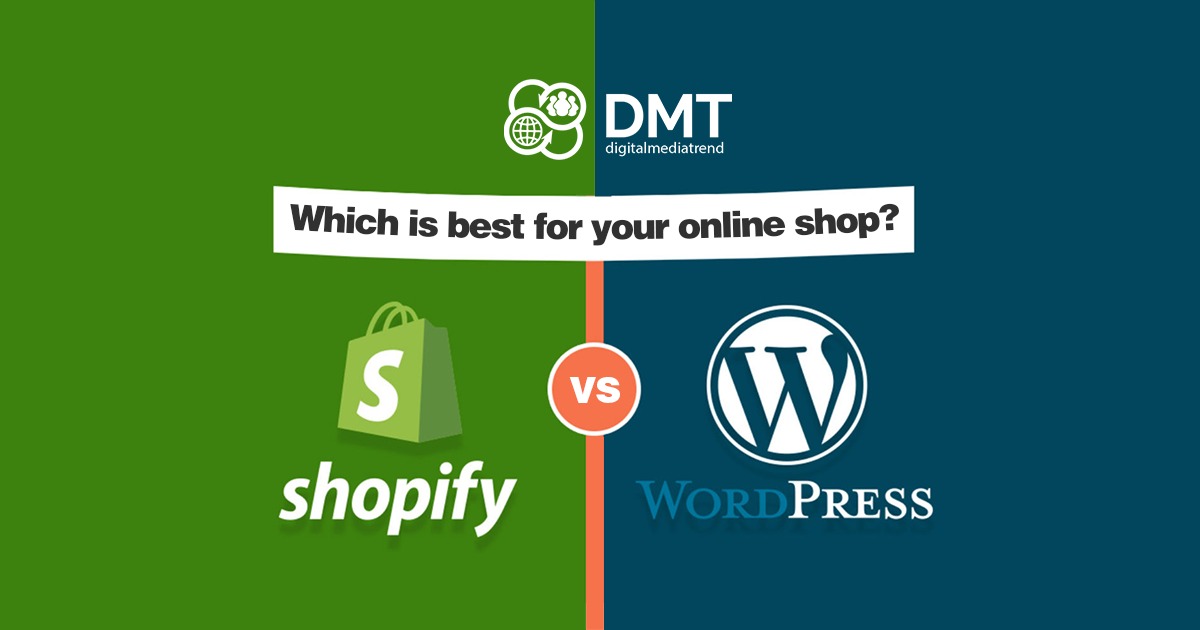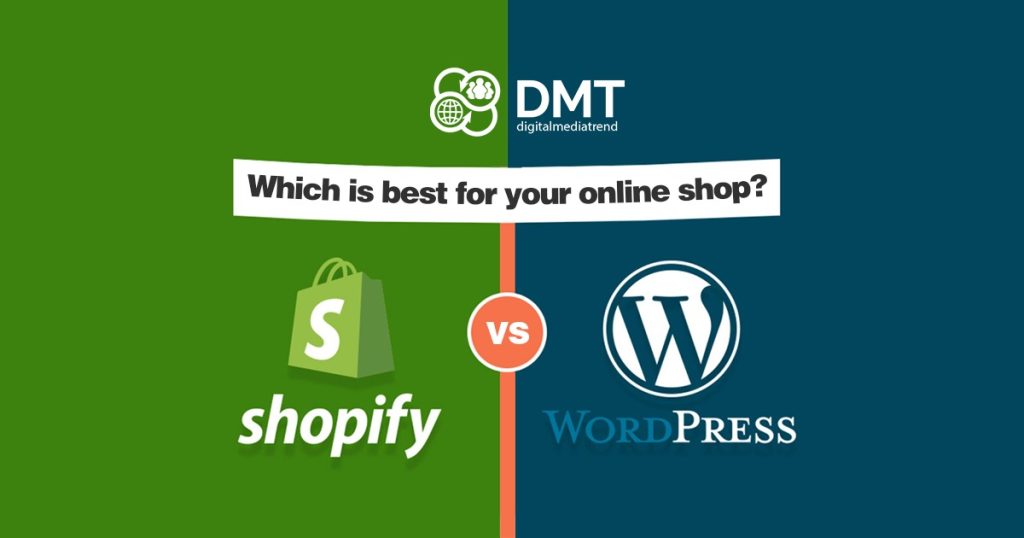 What Shopify does best
Shopify is made to help startups and small businesses quickly set up, launch and run an ecommerce store with minimal or no effort. All the tools you need to sell on Shopify are built into the platform, including:
Quick Start Online Store Wizard.
Built-in payments using Shopify Payments.
Built-in shipping label printing with shipping discounts.
Inventory, product data and collection management tools.
Integration with dropship suppliers and print-on-demand suppliers.
Multi-channel selling on Amazon and eBay.
Social selling on Facebook and Instagram.
Built-in marketing tools for Facebook ads, email and abandoned cart recovery.
Personal and in-store sales using Shopify POS.
24/7 customer support to help you set up or troubleshoot.
Disadvantages
Because your site resides on the Shopify eCommerce platform, so that you may always have to deal with a few things, such as Shopify's monthly and per-transaction fees, weak blogging features, and other platform limitations.
Monthly cost: Shopify websites cost $29, $79 or $299 per month depending on your business needs, but a 14-day free trial lets you try Shopify risk-free.
Transaction Fees: If you don't use Shopify Payments to process payments for orders, you'll be charged an additional fee per sale of 2%, 1% or 0.5% depending on your store's monthly plan. In addition, you must use Shopify Payments if you want to link in-store and POS sales to your Shopify eCommerce store.
Limited features: You can extend some of your store's features using Shopify apps, but they often add to your monthly costs.
Blogging features: Shopify provides a basic blog with every Shopify store, but the options for creating, managing and displaying content are very limited compared to content-centric platforms like WordPress.

WordPress
WordPress is a content management platform that can be transformed into any type of website. You can create an online storefront like Shopify's eCommerce site, or you can create any type of site you can dream of. You can create a news and media website, an influencer blog, an education portal and much more – then you can add a variety of online selling options using the WordPress eCommerce plugin.
What WordPress does best
A hallmark of the WordPress platform is versatility. WordPress itself allows you to create a content-driven website consisting of pages, images, videos and blog posts. This can be extended through a variety of 'plugins' that add a wide range of features to any WordPress site, including e-commerce functionality.
Here are just a few of the many things you can do when you combine WordPress with an e-commerce plugin:
Create an online shop with a powerful, full-featured, single-user or multi-user blog.
Add traffic-boosting features like online forums and video channels to your online shop.
Enable blog-based commerce and sell products directly from your blog posts.
Turn any existing WordPress blog or website into an online shop.
Combine affiliate income and physical product sales into one website.
Sell both physical goods that are shipped and digital goods by downloading them.
Sell products through dropship suppliers and print-on-demand suppliers.
Sell access or membership to an education portal or members-only content.
Market events, take bookings and sell tickets online or by download.
Market local services, accept bookings online and request deposits or prepayments.
Offer partner advertising or guest posting to generate additional revenue.
Disadvantages
Lots of moving parts: WordPress has more moving parts than Shopify's tidy, all-in-one system. You'll need to choose hosting for your WordPress site, then install an eCommerce plugin, an eCommerce WordPress theme, and additional plugins for SEO, marketing and other necessary features.
Variable costs: WordPress itself is free, as are many of the top-rated ecommerce plugins. However, monthly hosting, a good theme and other plugins can add to the cost of setting up your site.
Unlike Shopify, which manages its own secure servers, you need to ensure that your WordPress store is secure by using secure fork layer (SSL) encryption. This is provided by your hosting provider and is usually included in WordPress eCommerce hosting packages.
Ongoing maintenance: Every element of your WordPress site will need regular updates, including the WordPress and eCommerce plugin itself, other plugins and the site theme. These are automatic, but updates and even the addition of new plugins can sometimes cause conflicts that you'll need to resolve.
Some support: WordPress hosting services such as DMT Web Hosting can help with the initial set-up of WordPress hosting and any hosting-related problems. However, e-commerce plugins, store themes and other plugins are supported by the different companies that make them. Most support is provided via online forums, email or support tickets. This is where Shopify provides more practical help.
Additional considerations
Design options and customization
The clear winner in this round is WordPress. While Shopify offers a variety of store themes, the options pale in comparison to the universe of WordPress themes. There are thousands of ready-made free and cheap WordPress ecommerce store themes compared to the hundreds offered by Shopify.
The best part is that most WordPress themes can be customized without coding knowledge using various WordPress page builders such as Beaver Builder, Elementor and Divi. However, learning the WordPress dashboard and theme setup tools can take some time.
Shopify offers custom options in the theme settings, but coding knowledge is required to achieve the control available in WordPress. So to create a truly custom Shopify site, you may need to hire a professional, which can be expensive.
Payment options and additional fees
In terms of merchant services, both platforms allow online payments and you can choose from many different payment processing solutions for each. As both support different payment gateways, this round can be considered a tie. However, Shopify has some additional fees that can be a barrier to completing a transaction.
Of the two platforms, only Shopify adds a fee per transaction if you don't use the built-in payment processing solution Shopify Payments. You can use your merchant account or offer PayPal on Shopify, but this will incur an additional fee based on your Shopify plan:
Shopify does this because it wants you to use its in-house service Shopify Payments. The plus side is that it's convenient and competitive compared to PayPal, Stripe and similar all-in-one payment solutions. The downside is that you are essentially 'penalized' for not using the built-in payment service.
In the case of WordPress, your payment gateway options depend on your plugin. For example, the simple PayPal shopping cart is designed to work with PayPal; WP EasyCart supports Stripe, PayPal, Square and many others; while with WooCommerce you get over 100 payment gateway choices.
More importantly, unlike Shopify, none of these WordPress eCommerce plugins charge additional fees per transaction. The only fees associated with payments are those charged by your online payment processor.
Multi-channel social and marketplace selling
Both platforms support multi-channel selling, but Shopify is the winner here as it makes it very easy to sell everywhere. At each level of your Shopify plan, you get built-in integrations with Facebook Shop, Instagram, Amazon and eBay, so you can sell products on some or all of these channels and manage everything in the Shopify dashboard.
Multi-channel selling in WordPress depends on the eCommerce plugin you're using. For example, the top-rated WooCommerce plugin supports integration with point-of-sale and social selling, but only with add-on extensions. Some of these extensions are free, while others have an annual fee.
Managing eCommerce activities
Overall, Shopify wins this round. Its back-end management system is clearly designed for small businesses. You can automate many order processing tasks, such as printing shipping labels and routing orders for dropship, print-on-demand and outbound fulfilment. You can also update and unify inventory records across all sales channels and track performance in different reports depending on your plan.
When it comes to back-end business management, even the most popular WordPress plugin, WooCommerce, can't match everything Shopify provides. However, WooCommerce powers almost a third of all online stores and offers many built-in tools including shipping label printing, stock tracking and order routing. You can also get a free mobile WooCommerce app to manage your store on the go.
Expansion to more income streams
WordPress is a clear winner in this area, as it easily supports brands that want to generate income from their sites in a variety of ways. In this competitive online environment, small businesses are aggressively exploring multiple revenue streams, not just product sales. For these marketers, WordPress is ideal.
Direct product sales, drop shipping and digital goods are the most common e-commerce-focused revenue streams. However, there are many ways to monetize your website audience, increase cash flow and expand your brand beyond product sales – and content-rich WordPress sites are the perfect tool.
DMT Lahore is the best platform by all means where you get your desired services either Shopify or WordPress. Get in touch with us and request an obligation fee quote.