Technology has turned the world into a big village in terms of communication. Information sharing is more accessible than before, which makes it much easier to raise product awareness or promote your service. And since the internet is such a powerful tool that can be used to drive ROI, investing in digital marketing cannot be ignored. According to the latest study, "Global digital advertising spending is expected to reach over $ 375 billion by 2021."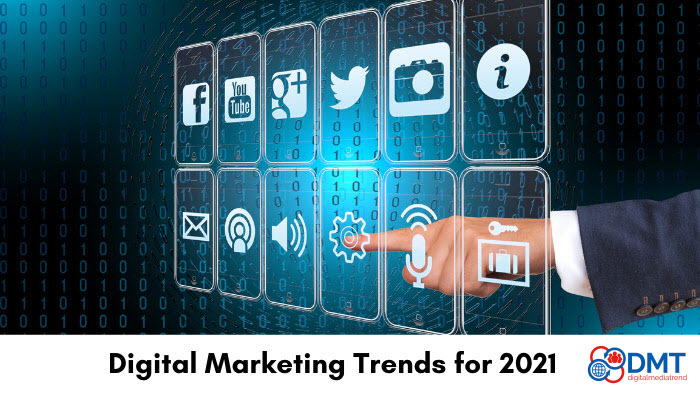 "Therefore, to stand out from your competition, you need to follow the trends. Take a moment to think critically about the impact of technological change on your business. Then take advantage of existing, proven techniques and try to predict the future evolution of the technology. Your business will thrive if you actively retain and reach new customers in a proactive manner rather than being left behind."
However, if you don't have the time to research all of these trends, we would like to share 10 digital marketing trends for 2021.
Chatbots take off
Many businesses will continue to use a chatbot, an effective chat agent that interacts with website visitors and customers. Chatbots communicate naturally with Internet users and can answer their questions in real time.
Hiring someone to monitor and communicate with visitors to your website can be expensive, but chatbots keep costs down by answering questions on your behalf. As a result, customers will tend to appreciate personalized service and get their questions answered quickly.
Increased use of artificial intelligence
Artificial intelligence combines different features, such as chatbots and voice assistance, to find answers quickly. To do this, AI uses sensors and human input to gather information about a situation. It can also collect / store research data to improve future user experiences.
Hyper-targeted advertising
According to statistics, 49% of users ignore unrelated ads or brands that continue to bombard people with their irrelevant ads. In contrast, if your brand creates great content and sends personalized messages, 36% will respond by purchasing the product.
Many companies are aware of this trend and are already planning for it. And we currently predict that by 2021, most businesses will target specific audiences and users will only view highly relevant ads.
Virtual Reality and Augmented Reality
Augmented reality and virtual reality have exploded in popularity in recent years and are fast becoming one of the main marketing trends. Although VR has long been the more popular of the two, it is predicted that AR will overtake VR in 2020 and that in 2021 VR will not be able to catch up with it.
Smart bidding in Google ads
Automation is nothing new in the world of digital marketing, but with recent updates to Google Ads, we hope that automation and smart bidding will become the norm for many PPC account managers, and so on, help them maximize their conversions.
Instant messaging apps
Instant messaging apps like Facebook Messenger, Viber, and WhatsApp are no longer just for messaging friends. These apps are fast becoming a popular way for businesses to communicate with their customers. In fact, Facebook Messenger sees more than 10 billion messages exchanged between individuals and businesses each month.
Messaging apps are popular for businesses because customers find it convenient to have direct contact with businesses. Plus, it allows for extremely personalized marketing, which we already know people love.
Video
Video was a necessity for digital marketing in 2019 and will remain so in 2021. In addition to adding videos to your social networks and to your site, live videos on Facebook Live and Instagram Live are watched 3 times longer than those who are not.
Influencer marketing
Influencer marketing has been around for several years now, and it's not going to go away any time soon. Influencers were once big celebrities with tens of thousands of fans, but now companies are turning to so-called "micro-influencers". Collaborating with these people allows you to reach their audience with a voice they trust.
Content Marketing
Is content still king in 2021? We better believe it! Not only does the content demonstrate knowledge and expertise for potential customers who read your articles or pages, but it is also what search engines put in their search results. In short, content fuels your SEO optimization. So it's best to never stop creating content. 
Next Generation SEO
There are a lot of changes going on in search engines right now, and updates are happening all the time. These changes to the search algorithms have deeply affected the user's search results. Each new algorithm has different advantages or problems, depending on how you use it. Ultimately, the goal of search engines is to help users get specific results that answer their questions.
So you will find that in 2021 and beyond, the quality of search results will improve significantly.
Learn More https://www.digitalmediatrend.com/blog/